Underfloor Heating Mat Kits
Our complete DEVImat underfloor heating kits for timber, concrete based floors and high output, come with everything you need to complete a DEVI underfloor heating installation.
Why choose a DEVImat electric underfloor heating kit?
20 year guarantee with DEVIguard guaranteeing the floor as well as the product
Open self-adhesive mesh design of the mat
Range of kit applications available - including timber floor (100W), concrete floor (150W) and High output (200W)
4mm mat thickness
DEVI is a premium well trusted brand
DEVI Floor Guard Warranty not only guarantees it's heating systems but also guarantees the floor in the unlikely event that the system cannot be repaired due to a manufacturing fault. Other manufacturers only offer product warranties which do not include the replacement of the flooring.
Our DEVImat underfloor heating kits include the following components:
DEVImat self adhesive underfloor heating mat
DEVIreg Touch programmable thermostat
Gaffer utility tape
Spray adhesive
Product Downloads
We have collated the following user guides and marketing material for products within this section for you to browse. Click on a thumbnail to download a file.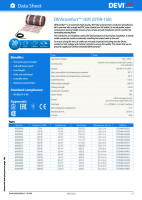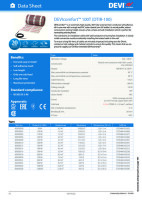 Articles
We take time and care to research relevant product information and report on current news for our product range that we believe you may find useful. Click on an article to read more.
Frequently Asked Questions
We make every effort in answering your questions. Below is a list of those questions we are frequently asked. Click on a question to expand its answer.
Click to view our independent Feefo review profile
Read our independently sourced Underfloor Heating Mat Kits reviews to see what our customers think about these products.
Customer
Product Rating
Customer Experience

Excellent

This product did the job it was intended for - easy to install and use.

"Fantastic product, fantastic people to deal with."

My original query was answered very quickly and the follow up supply of goods was equally excellent. Great customer service.

Fantastic, thank you for the great review of our service.

Average

As in section 1 lack of installation information.

"Reducing installation information is not a good idea!"

Your service was quick and efficient. My concern was with the DEVI product information and installation information. I have previously fitted a DEVI mat however the installation information was minimal and no explanation given for the pack content. Fortunately I remembered most of the installation steps. The one that I didn't was answered by DEVI customer help. My point is that the product is good but the installation information is poor as is the online information. If DEVI ask you can feed back this information to them.

Regards
B.S.Shearman

Excellent

I've always used Devi, as I think it's the best on the market

The web site is easy to understand, and they delivered on time. The parcel was left where I asked it to be left

Perfect, thank you for taking the time to leave us such great feedback. 

Excellent

Simply the best u/f heating solution around

Thank you for the fantastic product review, we appreciate the really great comments. 

First class on price and delivery. Highly recommended

Thank you for the excellent review and the fantastic recommendation, we appreciate it greatly. 

Excellent

Used before, and really like it

That is really great to hear, thank you.

Turned up really quick after ordering. Website really easy to understand

Thank you very much for the really great review.

Excellent

Third room done with this system, love it.

That is really great to hear as we love it too.

Arrived as described next day...great.

Fantastic! 
Thank you very much for your great 5 star review, it is very much appreciated.

Excellent

good value from a very informative company

great service

Thank you very much for your 5 star review.

Excellent

Excellent

"Excellent website, easy ordering system, very knowledgeable staff. Have since re-used them."

Excellent website, easy ordering system, very knowledgeable staff. Have since re-used them.

Thank you very much for your fantastic review, we really do appreciate your comments.

Hannah Boother
Customer Service Manager