DEVIreg 330 Thermostats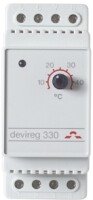 The DEVIreg DIN rail thermostats can be used for various purposes, for example for controlling: - Electrical underfloor heating systems and frost protection.
The DEVIreg 330 wall mounted range consist different thermostats – each with separate temperature ranges depending of the application where it will be used.
DEVIreg 330 (-10°C to 10°C) is mainly used for frost protection applications.
DEVIreg 330 (5°C to 45°C) is mainly used for underfloor heating.
Domestic Applications for DEVIreg 330 Series Thermostats
Controlling supplementary heating (warm floors) for renovations
Controlling total heating for new builds
Related articles
Feb 27
DEVIreg 540/550 DEVIreg 540 DEVIreg 540 is a combined timer and thermostat. The timer is used for set backs in the temperature during periods where the room is not in use, which reduces energ...